Accelerate Your Hair Growth
Journey With The Follicels Series
Follicels Home Care Series – Thickening Serum & Recharge Lotion
FOLLICELS
RECHARGE LOTION
Increase hair density and strength with this lotion as it contains an impressive multi-mineral mix to detox scalp, and slow the ageing process of follicles.
FOLLICELS
THICKENING SERUM
This serum reactivates hair follicle stem cells for astonishing hair growth! With a medley of key actives, scalp is protected against oxidative damage, and stem cell activity is enhanced.
SIZE: 30ml x 2
RETAIL PRICE:
RM670/set which includes 1 Follicels Recharge Lotion and 1 Follicels Thickening Serum
FOLLICELS RECHARGE SHAMPOO
Get healthier hair and scalp as the herbs and botanical blend in this shampoo acts as effective antioxidants, deep cleanses the scalp while improving the moisture level and strengthening the scalp barrier.
The Follicels Recharge shampoo is stored in 100% recyclable Polyethylene Terephthalate (PET) packaging, which is not only environmentally-friendly, but also hygienic and anti-bacterial.
SIZE: 250ml
RETAIL PRICE: RM150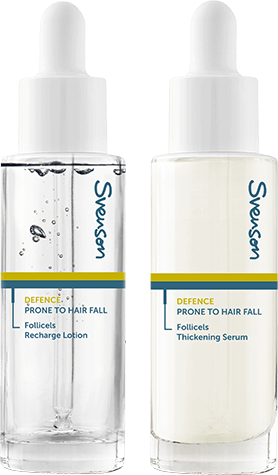 Strengthen Each and Every Strand
against Early Signs of Hair Loss
DEFENCE
HAIR BOOSTER SHAMPOO
Strengthen your hair strands by stimulating follicles and enhancing protection with this daily shampoo. Specially formulated with Capsicum Fructescens, tea tree oil and Arnica, its potent combination also fights against premature hair fall as well as split ends.
SIZE: 250ml
RETAIL PRICE: RM115
DEFENCE HAIR BOOSTER TONIC
Speed up the process of reduced hair loss by nutrifying your hair right from the roots. Active ingredients such as Capsicum Fructescens effectively increases scalp microcirculation to ensure that sufficient nutrients are absorbed at the roots. The antibacterial Tea Tree oil keeps your follicles healthy and prevents clogging, while Arnica improves hair strand strength and vitality.
SIZE: 100ml
RETAIL PRICE: RM215
DEFENCE REGULATING PRE-SHAMPOO
A blend of natural microgranules from almond and hazelnut, the exfoliating pre-shampoo stimulate blood circulation
while gently removing excess sebum and dead cell effectively. A nourishing treat for the mane, it leaves the scalp cleaner and more purified and support healthy hair growth.
SIZE: 200ml
RETAIL PRICE: RM150